Well, the "year of still here" continues. Again, another pretty good cook, but not quite yet up to where we needed to get our scores.
This is now, I believe, officially the largest contest in Illinois. This year there were a total of 70 pro teams, and 54 amateur teams, in addition to the Destination America show BBQ Pitmasters being there as well!
I'm not quite sure how the organizers pulled off getting that many teams in and out of there, but they did a great job!
We headed over on Friday, about noon, before it got too crowded, got parked and situated, and began unpacking and setting up. At that time, not too many other teams were in our area yet, but by 5 or 6 PM the place was busy! The Pitmasters set wasn't too far away, in fact I suppose if I'd wanted, I could have got more photos than I did just setting a camera on the roof of the trailer. Aaron Franklin, one of the three judges in the past, did not make it, Melissa Cookston of Yazoo's Delta Que filled in in judging duties. The show was a semi-final, and featured 3 teams. I'll withhold the names until the show airs. And I can honestly say I don't know who won, because we were busy on Saturday getting ready for the crunch Sunday!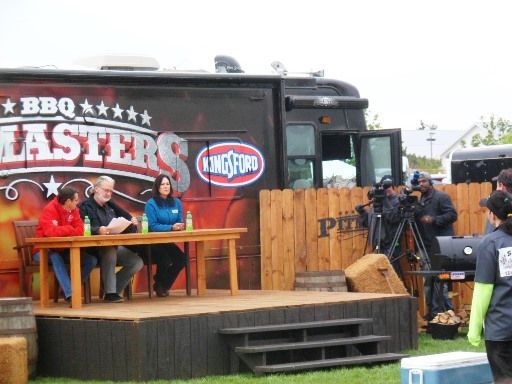 Friday was a nice, quiet evening. We wandered around seeing who all was there. Our neighbors on the west were Moose's BBQ, from WI, and on the east, Duce's Wild BBQ (Duce is the nephew of Dave Raymond, also known as Sweet Baby Ray, and one of two brothers who originally created Sweet Baby Ray's BBQ sauce) On the other side (east of them), was team Tim's Full Belly Deli. Tim was instrumental in planning our last contest, in Fremont, but we really didn't get to talk much there. Here, we got to meet his wife Diane and their whole crew. They had a very nice pot luck on Saturday evening!
I got a little behind on Sunday morning with chicken, partially because we had a visit from the area sales rep for 2 Brothers Brewing, in Aurora and Warrenville, IL. She was kind enough to leave us a banner from them, and some of their delicious new (fairly) beer, Side Kick. A really good summer brew! Very citrus and grassy, but totally in a good way! I was told it was all the specific variety of hops they use, and that there isn't any citrus added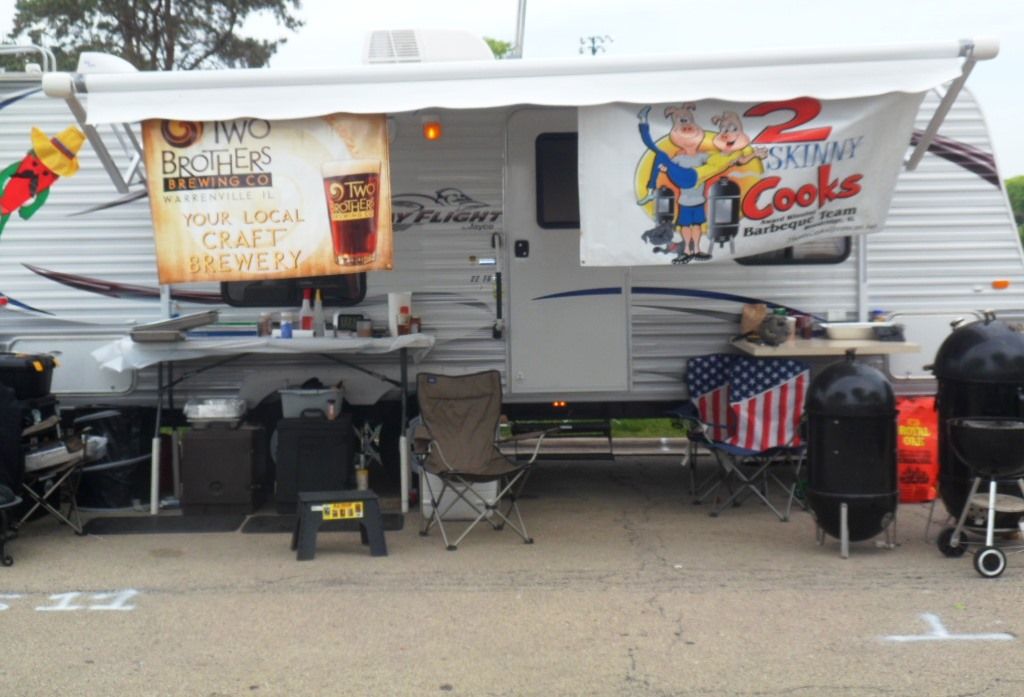 But ultimately we got everything turned in on time, and I'm mostly satisfied with the results, although it would have been nice to have placed a bit higher.
Our chicken was almost a hail Mary! I'd gotten it on a little late, and struggled to get it done in time for turn in. Wasn't quite the box we wanted, but looked ok. Appearance scores were 8 7 9 8 9 5! What the heck the 5 was thinking, I have no idea! Taste scores were 8 8 9 8 7 6 (thanks again judge #6) and texture scores were 9 7 9 8 8 7. Overall, given that we don't do chicken as any other team we know of does (hence no photo), we were happy with where we were on this one.
Got ribs were almost done too early also, so we pulled them off a while and put them back about 15 min before turn in to sauce them and get them set.
I liked them. Judges, not so much! This wasn't quite the final box, we cleaned a little, and added some more parsley on the left side to even it up a bit
Once ribs had been delivered, I had a few moments to sit and catch my breath, before it was time to pull the pork and put together the box. Unfortunately, pork was a little too overdone to slice, but we pulled and arranged what we thought were the best pieces, included some chunks, bark, and pulled. I thought it looked like a hot mess, and have chosen not to post a photo, but it scored all 9's and 8's with the judges. Taste and texture scores were 8's and 7's, so still have some work to do there.
Finally our brisket. I'm still getting back into the groove of doing these comps, and find myself forgetting steps that might take a good product and drive it up to something phenomenal. And sadly, I missed some of those steps on this one too! But I was happy with the taste and texture, and the burnt ends were very tasty!
Judges gave it 988 987 987 998 877 899. Lots of variation for just a few pieces of meat! Good enough for 18th place. Like I said at the top, TOUGH field in this contest!
Well, once the turn ins were done, it was time to start tearing down, and getting ready for awards. I had most of the trailer packed up, but left the stuff going in the truck (cookers and dirty stuff) for after awards. We both had time for a quick shower, a welcome change from the old days of the tent or pop-up camper, and headed off to awards. And then the rain started.....
Not so bad really, a steady drizzle through awards, didn't turn into a downpour until after, so I got to pack up the truck in the rain! When it was all ready, I went in to relax a bit and enjoy a beverage, before hitching up and heading home. Something trickier than normal as our neighbor to the front had left their trailer planning to pick it up later, so I had to back in to hitch ours up at an angle. Something not terribly hard, if you've done it before (I hadn't). But I managed to get it hitched in about 5 minutes, and we headed for home.
All in all, a good weekend. Turn In's were all on time, no DQ's, another good year of still here run through!
Went and did our villages Memorial Day parade the next morning. It was drizzling again, which made the turnout smaller than normal, but still a nice crowd!
So now we repack, re plan, and get ready for the next one! St. Charles, IL Firin' up the Fox BBQ. Hopefully we can dial things in a bit. The field will be somewhat narrowed for this one, because a lot of teams will be competing in the Sams Club event in Madison, WI. Hopefully that will help us out a bit!