Well, our first effort of the year came with mixed results, but a lot of fun!
Between the last post and this one, I made up about 17 pounds of various sausage. We made Texas Hot links, mild Italian, and a bacon-cheddar-cheeseburger variety that wasn't bad either!
This would be the Hot Links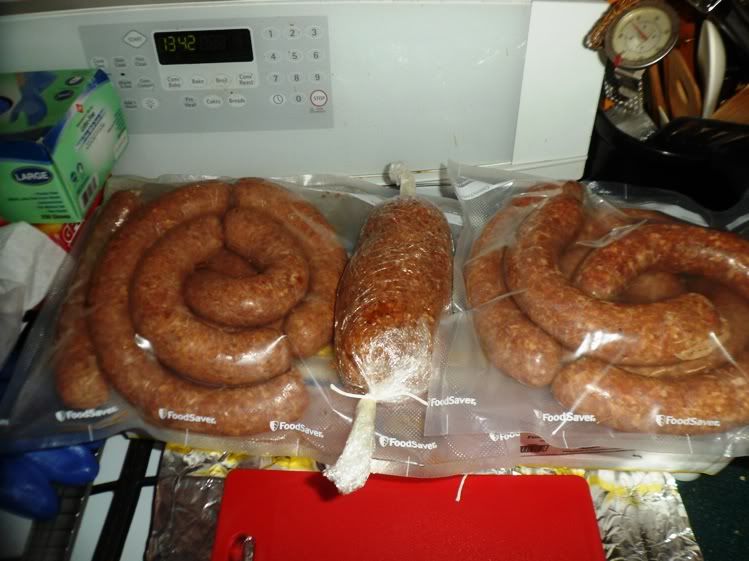 So, I spent Saturday packing up the truck with all our stuff, prepping meats, and making chili.(?)
Last week midweek, the organizers put out the word that they needed more entries for their chili contest, an alternate contest in addition to the 4 meats included in the BBQ comp. I figured I'd have a few pounds of rib trimmings to use up, so opted to make up a pork chili verde, with about 35 fire roasted tomatillos, 6 Anaheims, 3 poblanos, and 5 or 6 jalapenos, all fire charred and peeled.
There was no real recipe, just added those together with some sauteed onions, and garlic, seasoned with salt, pepper, cumin, corriander, a beer, and a few other things.
At 04:10 Sunday morning the 12th, I finished the last of the packing, including the crock pot with the chili. We stopped for a little breakfast at the Dunkin' by our house, and headed up to the bowling alley. We arrived at about 6:40AM, and the temp was about 14. We'd had someone ask if they could assist/observe through this comp, and he was there right on time to help set up the canopy, and the canvas tarp walls, so we could get things nice and warm asap. To be honest, once the sun came out it wasn't nearly so cold, and it wasn't raining cats and dogs like last year!
The Rand-River Bowl in Des Plaines is generous enough every year to donate a days use of thier facility for this annual event, the Des Plaines Winter Burnoff. Besides being a huge load of fun, it is done to raise funds for a charity near and dear to the organizers, Keith and Rebecca Engstrom's hearts. It is all done to benefit NOAH, the National Organization for Albinism and Hypopigmentation.
Besides the bbq contest, there is, as I'd mentioned, an optional chili category, a number of lanes set aside for bowling for the charity, silent auctions, raffles, it's just a darn fun day! And I think this may have been the best attended in the seven years it's been done! (I believe we've been directly or indirectly involved with 5 of those)
So since bbq isn't really a safe, indoor activity, the bbq comp portion goes on in the parking lot, well, except for the judging.
Turn in times at this event were nowhere close to a regular KCBS. First was sausage, at 13:30. We turned in a bit of all 3 that I'd made, Italian on the left, bacon cheeseburger in the middle, and Hot Link on the right.There's a bit of sloppiness on the right, and I probably could have gotten a bit more in the box, but the sausage itself was delicious. At least we all thought so!
So at 14:00 - time for chicken turn in. We turned in some huge wings, glazed with a homemade cranberry habanero honey glaze (we used that glaze later for our pork entry as well)
If we'd gotten two more in there, it might have made up for the sauce on the greens in the rear middle. Diane gave one of the extras to someone organizing the auction packages, and having tasted it she spent seventy dollars on a basket full of our products! So I guess it was pretty good!
Next was ribs, at 14:30. I was pretty happy with these. We'd used a mop that was essentially leftover spicy pickle juice from our candied hot jalapeno slices, and then sauced with a sweet, slightly spicy glaze
And finally, pork loin/tenderloin. I went simple, with 4 tenderloins slow and low for about 30 minutes, to get a little smoke on them, and then finished on a hot grill to get some brown on the outside. Probably should have added 2-4 more slices now that I look at it. Or done 3 rows lengthwise instead of two widthwise? Oh well, too late now!
Now none of these have been my favorite boxes, but given that they were mostly put together in sub-freezing temps, which has a tendency to make lettuce and parsley go limp and brown, I'm not altogether unhappy with them either!
So with everything done now but the crying, we, with the help of our hugely helpful volunteers, tore down, and packed everything back in/onto the truck, and made ready for the awards presentations...
So our first competition comes with mixed results. Chicken and sausage weren't what we'd hoped, but we were 11 of 22 overall, 6th in pork, 3rd in ribs, 1st in chili, and came away with 2 trophies, and enough in winnings to cover our meat. We also donated a basket of home made goodies that fetched 70 bucks for the charity, and sold a little extra that helped cover our meat costs! And there were no leftover wings from the 34 I made, so while the judges might not have liked them, the crowd sure did!
We had a great time, saw some old freinds, and met some new ones! And now I'm looking forward to the Westmont event Memorial Day weekend!
Now all we need is a functional trailer, and the search starts tomorrow! We're heading out to Rosemont, IL for the 2012 RV & Camping show at the Rosemont Convention Center
http://www.chicagorvshow.com/
We're hoping to find something in the 18-24 foot range that we can mount a hitch receiver to for a hitch mounted shelf/cabinet to hold our cookers.