Well this has been an odd summer...
Our first contest, we lose power in the trailer, the next, the roof falls in....literally! The third, we miss our first turn in ever, and go off the rails so to speak. And in the end, with one more to go, we're back to 4 comps a season instead of 6, and feeling a lot like we're back in the tent!
But all is not lost. I've secured a new power center for the camper, and will be putting it in before our final comp in Libertyville. Also resecured the wardrobe/pantry in the camper with a new slide bracket, and with any luck might even get the roof cable fixed prior to the 10/14 comp!
We've been sort of non BBQ-centric of late, and celebrated our 10th wedding anniversary last weekend by heading to Millennium Park in the city for the 4th annual Bon Appetit Chicago Gourmet event. We got the early bird discount on the tics back in the spring. It was a great event this year, and all of the problems that plagued last years were taken care of. I was glad we went Saturday instead of Sunday, as the weather was far more comfortable and dry Saturday. As in past years, we got to chat with a lot of great chefs, see some great demos, (check this, as Stephanie Izards' butcher demos how they prep pig heads for The Girl and The Goats' pigs face dish...
http://www.youtube.com/watch?v=-yGib50K-sA
(WARNING!!! not for the squeamish) ate a lot of amazing food, and drank our fill of some fine potables!
Here are some other views of the event. I think our favorites were Chef Trevor Hoyte, of IPO Chicago's pork belly with crispy chicharone dish, and Chef Beverly Kim Clarks' seafood panna cotta topped with mango gelee, mango relish and tiny chilled mussels. I had three they were so good! And she was awesome! Spent a lot of time with us explaining the dish. Diane went and grabbed her a plate of IPO's pork belly and she was most appreciative. We'll be rooting for her in Top Chef season 9! (starting Wednesday!) Best thing about both of these was you didn't have to wait in the tasting pavillion lines, though those were far faster and smoother than last years event, and the plates included in the swag bags, which featured a slot to hold your glass, were nothing short of genius!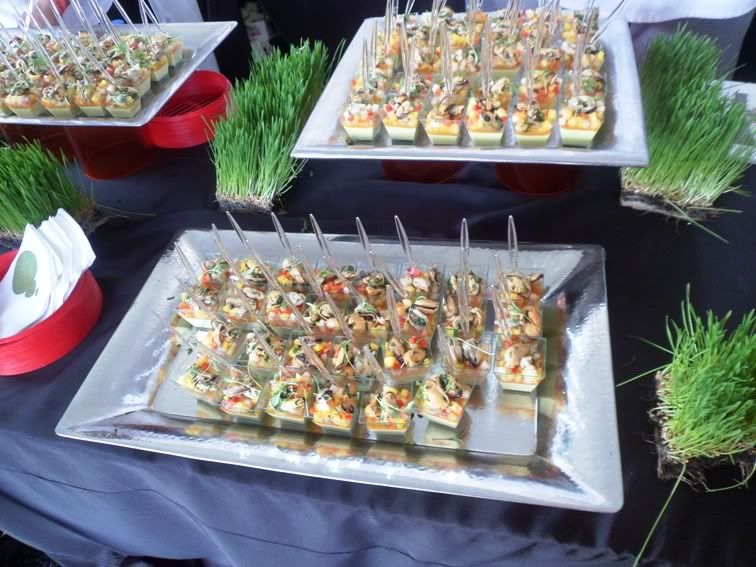 Unfortunately, I didn't get as many good food shots as in years past, but I'm including a few of the event just to help give a feel for the environment.
In the first presentation of the day, Steve Dolinski of Chicago 7 news introduced Chef Rick Bayless, Beard award winner of Topolabampo and Frontera Grill in Chicago, who responded by snapping a photo of Dolinski, since everyone else was snapping photos of Bayless
Next came the dynamic duo of Jimmy Bannos Jr., of The Purple Pig Restauant, and Stephanie Izard, Top Chef Season 4 winner, and owner of The Girl and the Goat Restaurant, Chicago, doing "Beast Feast" Bannos made essentially a pork neckbone confit, while Izard made a take on head cheese with a whole pigs face (see video link above) herbs, and seasonings, and served with a fried egg on top as a VERY high end breakfast type plate! (you can view it here...
http://www.stephanieizard.com/home/view/pig_head_and_veal_belly_rib_roasts_and_peter_piper_bread
I've included a few additional views below to just share the whole feel of the event. I would heartily recommend that anyone who loves great food and drink put this on their calendar for future years!
sign up at their web site to get on their email list here . It's likely your best opportunity to sample some of Chicago's best chefs' and restaurants' fare, without totally breaking the bank.
Yes, at 150.00 per ticket, it's pricey, but they offered an early bird discount that discounted that to barely over half price, AND unlike the Taste of Chicago event in the summer, you get high end food, unlimited quantity, and all the beer, wine and liquor you desire for 1 ultimately reasonable price. Along with great demos, hands-on seminars, and if you go "whole hog" and pay the extra for the Grand Cru feature, even more benefits!
http://www.illinoisrestaurants.org/associations/2039/chicagogourmet/
Jimmy Banos Jr and Stephanie Izard with WXRT's Lin Brehmer at the "Beast Feast"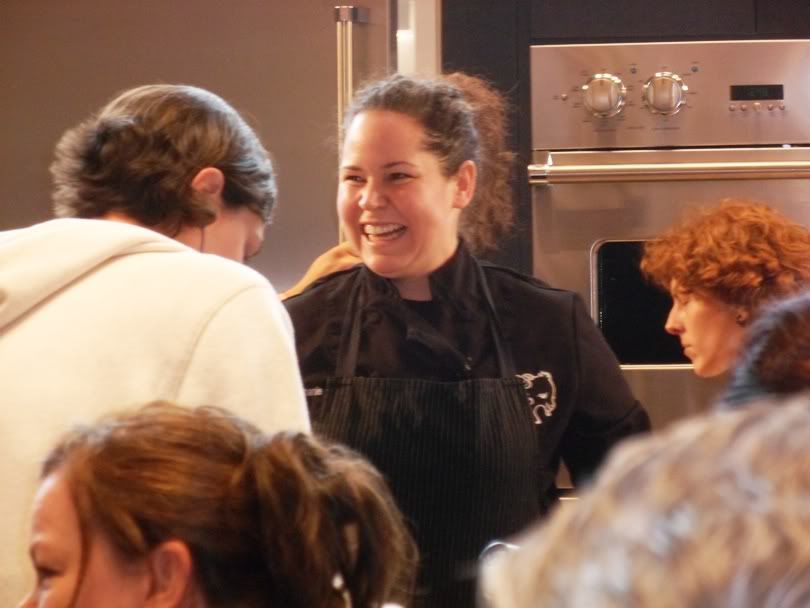 The Main stage
Chef Beverly of Aria coordinates their seafood pannacotta presentation
And finally, the sun sets on a great day!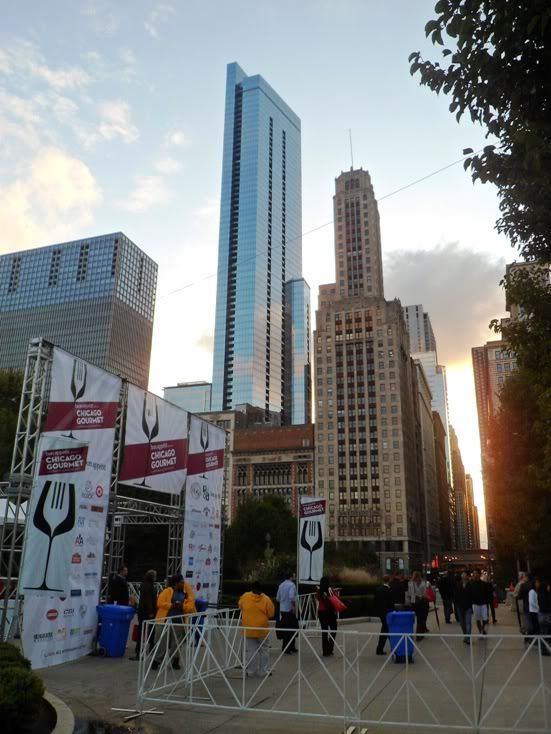 So as the 2011 season winds down, we're prepping for our last event of the year, at Lamb's Farm in Libertyville, on 10/14. Hope to see many freinds there, as of today, looks like 55 teams are signed! Looks to be maybe the largest one yet!